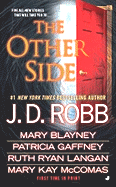 Possession in Death as part of The Other Side anthology
J.D. Robb
Grade: C+
As I wrote in my Amazon review of Indulgence in Death, I believe that J.D. Robb is at the tipping point in her long-running In Death series. Reading Possession in Death did nothing to dissuade me from that belief. Those who prefer the procedural aspect of the series, or Eve Dallas' occasional forays into the paranormal, may enjoy this one better than I did. For me, though, the lack of interplay between Eve and her intimate circle of friends, as well as the author's failure to exploit the push me/pull you connection between Eve as cop and Roarke as ex-criminal caused the book to fall relatively flat for me. There was even a moment when I waited for Roarke to tell Eve she was insulting him because she relied on him to think like a cop...I'm still waiting, sad to say.
Even so, I found the whodunit component of the story compelling, which is why the story earns a C+ rather than a straight C. I still plan to give Robb one last shot with her next full-length book in the series, but if Treachery in Death fails to fully engage my imagination, I think I'm giving up on the In Death series.
I have no plans to read the remainder of The Other Side anthology, so when I link here from Goodreads, it'll be from the audio version of this short story on its own as the print version of this short story is not a stand-alone.